Stand Up Awareness Week 14th-18th Nov 2022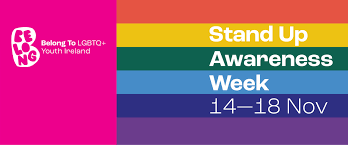 What is Belong To's Stand Up Awareness Week?
Belong To's Stand Up Awareness Week is a time for post-primary schools, youth services, and Youthreach in Ireland to join together and take a stand against homophobic, biphobic and transphobic bullying. This week is an opportunity to take steps to make spaces safe and supportive for LGBTQ+ young people.
Stand Up Awareness Week is a celebration of the diversity within our school and is a colourful reflection of our school ethos, whose key message is to be kind to each other.
During the week, teachers were provided with resources to create awareness and discussions among our students. The Wellbeing Committee and Ms Molloy (Co-ordinator) took photos of how students participated in the week in a variety of their classes such as Art, HE with students work being portrayed around the school walls.