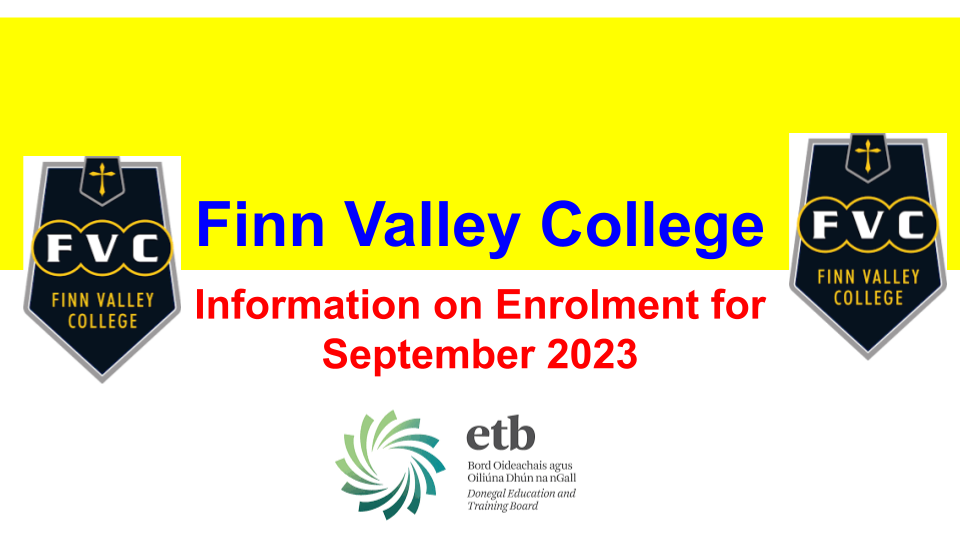 Welcome to our Information Page for students enrolling to Finn Valley College in September 2023.
We are delighted to invite the 6th class students of our community into our Open Day this year on Thursday 10th Novmeber 2022 and our Open Night on the same evening at 6.30pm.  This event is a wonderful annual tradition, but also a highlight in our school calendar.  We hope that this page will provide useful advice that will inform you of the many aspects of school life at Finn Valley College.
Our current first year students have completed the Taster programme which provides an excellent opportunity to experience optional subjects such as Art, Woodwork, Metalwork, Technical Graphics, Home Economics, Spanish, Geography and Business Studies.
Our small but spacious school is equipped with modern facilities that offers students the opportunities to excel in both their academics and co-curricular activities.  With a wide range of subjects on offer, our students can excel in a curriculum that will prepare them for exciting futures.  Extra- curricular activities help our students to develop interests, talents and build on friendships.
You can view our prospectus below:
To find out more information and to help guide you in your decision of your new school please click on the information below.  Please contact the school if you have any queries and we will be more than happy to help.
Finn Valley College Application Form
If you have any queries regarding the Enrolment Process please email fvcprincipal@donegaletb.ie or contact 074 9131684 and ask to speak to the Principal.
Information Website for 1st Years: https://sites.google.com/d/1-LeDYLn-pAVAJ8qyova58ER42NYRtO4z/p/1Cnz-KWeX0tTvrRza5Tt7y49tcsnNg5_z/edit