Junior Cycle Wood Technology
The focus of learning in the new Junior Cycle is experienced across three strands – Principles and Practices, Design Thinking and Wood Science and Materials. It is assessed at common level.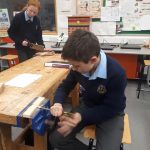 What will I learn? Some of the things you will learn include: • how to design a project given a brief description of what you are to make • how to use freehand sketching to communicate your ideas • how to prepare a design drawing/plan of a project you design • how to read design drawings and make small projects from these drawings • how to safely use a range of hand and power tools in producing your design.
Senior Cycle Construction Studies
provides students in the senior cycle with an introduction to the knowledge and skills involved in construction technology and construction materials and processes. Construction studies is assessed at two levels, Ordinary level and Higher level, by means of a written examination, a practical test, and an assessment of student project work.
Please see below some important information on the subjects of Wood Technology (Junior Cycle) and Construction Studies (Senior Cycle).
Junior Cycle Wood Technology Fact Sheet – A short information sheet on Wood Technology for parents / guardians.
Junior Cycle Wood Technology Specification – A detailed breakdown on the full Wood Technology syllabus.
Senior Cycle Construction Studies Syllabus
Materials Technology Wood Coursework – Design Briefs 2020://www.examinations.ie/misc-doc/EN-EX-98169719.pdf