Why choose Finn Valley College
Welcome to our section on our Post Leaving Certificate (PLC) courses. We hope that this section will provide you with the information you need to help you make the right choice for your PLC needs. If there is anything about which you are not sure and if you would like more information please contact either:
Ms Kathleen Boland, PLC Programme Director  (e: kathleenboland@donegaletb.ie)
or
Mr Rory White, Career Guidance Counsellor   (e: rorywhite@donegaletb.ie ).
You  can also call the school on 074 9131684 to talk to either person or to make an appointment.
Finn Valley College currently offers three Post Leaving Certificate (PLC) courses for learners where they can acquire a nationally recognised QQI Level 5 Award. These three courses are: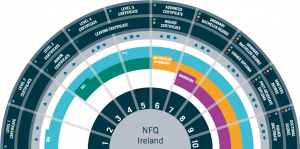 The school has a core team of PLC staff with many years' experience of delivering QQI courses and modules. The school prides itself on the friendly relationship between PLC learners and staff. Check out some of our student testimonials below.
In our school learners are supported in the transition from second level to third level education and / or in their preparation for the world of work.
You can also check out why learners may choose to do a PLC and you can check our different courses in the sub-menu above.
Student Testimonials
Business Administration
Shannon Kelly- Currently studying an M.Ed at NUIG.
"Looking back I am so glad I chose to do the Business Admin PLC at Finn Valley College.  It has encouraged me to thrive at a 3rd level institution and the skills I learned have all come in so handy for me at college"
Cormac Mc Menamin- Currently studying Accounting and Finance at DCU.
"PLC was one of the best years I could have taken after my Leaving Cert. Not only did I meet a whole load of new people that I never would have met, but I also have gained a lot of useful skills that have really come in handy while currently in college.  Skills such as typing, presentation skills and the experience of doing assignments has put me in a good place and has left the transition from secondary school to college as smooth as possible.  PLC also helped me get into my current course in DCU, my course was originally a 460 point course but because of PLC I got my place.  This goes to show that the PLC course in Finn Valley College is really good gateway into courses that you thought were previously unattainable."
Mark Mc Kelvey- BB Hons & Smurfit Business School Graduate
,
"I have nothing but great memories of the PLC course.  I recall at that time knowing I was not ready for college yet.  Reflecting back, it was the PLC year which helped me to develop as a person.  I grew in confidence, improved my social skills and learned IT abilities that are still of great benefit to me"
Demi Anderson
–
Receptionist, Millbrae Surgery
.
"I found the course very beneficial.  It was a great year to mature and even though we were in a school setting we were treated more as adults.  Work experience was a great module in the course.  It helped me to gain employment as many of the office skills needed tied in perfectly with what was required for my job"
Sports, Recreation & Exercise
Dillon Doherty- Currently studying Level 8 Sports Coaching and Performance @ LYIT
"I really enjoyed my time in the Sports, Recreation and Leisure PLC at Finn Valley College and I cannot recommend any of the courses highly enough. The skills I learned during the course and memories I made during the year is something that I will hold on to forever'
Ryan Davis- Lifeguard and swim instructor, Finn Valley Leisure Centre.
"
I would highly recommend the Sports PLC at Finn Valley College as it is a very enjoyable year. It is a great way to improve on your existing skills and also to learn new skills. From doing work experience in PLC as a lifeguard I was offered a full time job in Finn Valley Leisure Centre. I am glad that I did PLC as the skills I learned from the course are with me for life."
Application forms