Leaving Cert Applied is a two year programme aimed at preparing students for adult and working life. The Leaving Cert Applied is often taken by senior-level school students who feel the traditional Leaving Certificate isn't for them, but who still want to continue with school and prepare for life after they leave.
What is the difference between the Leaving Cert and Leaving Cert Applied?
Leaving Cert Applied (LCA) is split into four half-year sessions, with more emphasis on continuous assessment instead of the end of year exams.
This is different to the Leaving Cert which focuses on the final exams taken at the end of two years (5th and 6th year).
What is involved in LCA?
The different elements of the LCA include vocational preparation and general education, taken as modules at different times over the two years. You will earn credits for the work you do in each half-year session. There are final exams that take place in June – the same time as the regular Leaving Cert exams – but your grades will not depend entirely on those exams because you will have built up credits during the year.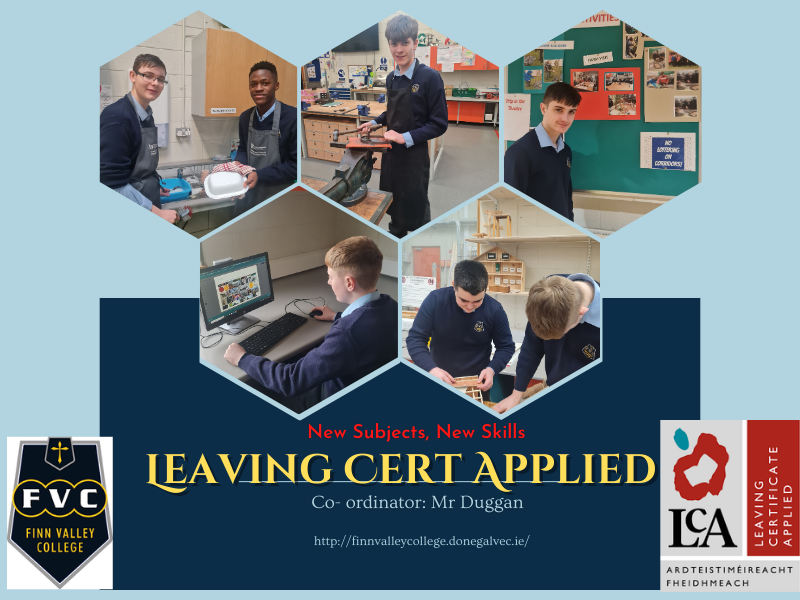 Areas and Subjects that you can study
Work experience – completed 1 day per week in an area of your choice
Applying Maths in everyday life
IT and computers
Communication
Hotel Catering and Tourism, Agricultural Science, Social education, Active leisure studies, Language, Engineering, Wood Construction and Graphics.