Home Economics is a practical subject that provides life skills and prepares young people for managing their future. It gives students knowledge of nutrition, cooking, textiles and home management. Active teaching methodologies help make it a fun and enjoyable subject.
Junior Cycle
Junior Cycle Home Economics has a direct relevance to the present and future life of every young person. Its purpose is to teach young people important skills for living as individuals and how to create a happy and sustainable environment for their families. It is studied through three interconnected strands: Food, Health and Culinary Skills; Responsible Family Living; and, Textiles and Craft. There are two Classroom-Based Assessments in Home Economics which is studied at common level.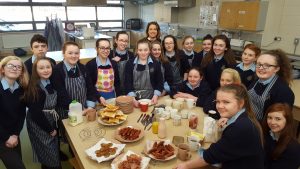 Senior Cycle
Senior Cycle home economics provides students with knowledge, understanding, skills and attitudes necessary for managing their own lives, for further and higher education and work. The learning experiences in home economics prepare them for a consumer-oriented society and provide a foundation for a wide range of careers in food, textiles, science, design, social studies and tourism. This syllabus is for students in the senior cycle of post-primary education and is assessed at Higher and Ordinary levels. Students complete a Food Studies Coursework Journal worth 20%.
Leaving Certificate Applied – Hotel Catering and Tourism:
Students who chose Leaving Certificate Applied study Hotel Catering and Tourism. It offers candidates an opportunity to progress into the catering and tourism industry.
Please see below some important information in relation to the subject of Home Economics:
Junior Cycle Home Economics Fact Sheet – A short information sheet on Junior Cycle Home Economics for parents and guardians.
Junior Cycle Home Economics Specification – A detailed breakdown of the full Junior Cycle syllabus.
Senior Cycle Home Economics Syllabus
Useful links to other sites that may be helpful for revision:
http://www.homeeconomicsnotes.com/leaving-certificate-resources