Students at FVC making a difference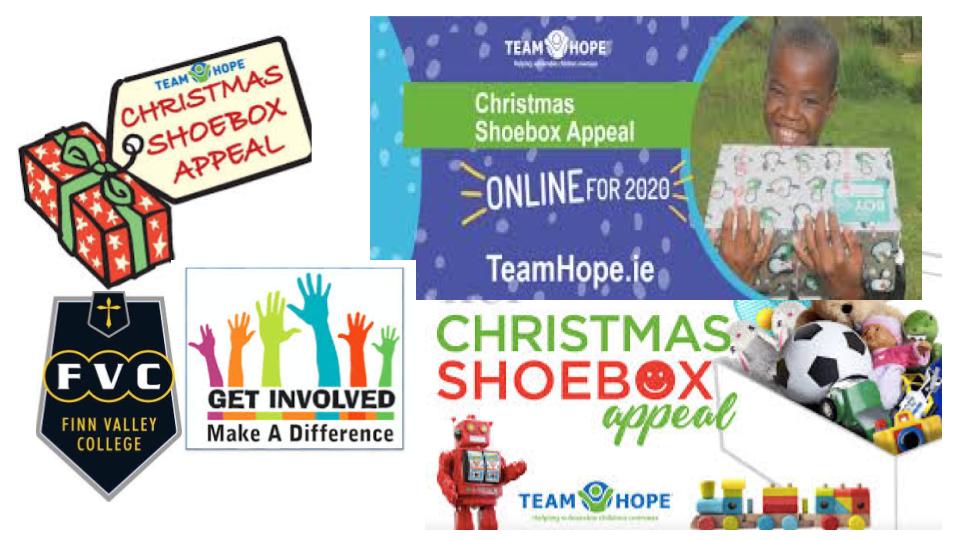 Our first year students as part of their CSPE classes collected money this year to purchase a number of shoe boxes packed with gifts to send to children in need as part of learning about the key concepts of CSPE.  Well done to their teachers and Class Banville, Boland, Binchy and Beckett.
Our PLC Business students also got involved in this worthy cause under the support of their tutor, Ms Mc Laughlin.
This year the #ChristmasShoeboxAppeal is run differently. Due to the effects of Covid-19 restrictions, it is not possible to send gift-filled shoeboxes from Ireland this year, so our school got involved to help #TeamUpForTeamHope by donating gift-filled shoeboxes online.
These donations will allow Team Hope local partners in Africa and Eastern Europe to purchase items for shoeboxes, which will then be delivered straight into the hands of children affected by poverty. Often these shoeboxes are the only gift that a child will receive at Christmas and the joy that they deliver is incredible.
Well done to all on supporting a wonderful cause.