World Home Economics Day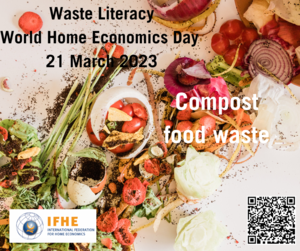 This year we celebrated World Home Economics Day on Tues 21st March. The theme this year is Food Literacy and Waste. In class students were reminded of the various ways of being sustainable within their homes and highlighted the importance of using the correct waste bins in school.
In the voyer at breaktime the HE Department had a pop up information stand for staff and students to visit. We were delighted to see so many people drop by to learn about how to avoid food waste and how to dispose of their waste correctly.
Students participated in fun activities to learn about how to recycle their waste properly. Well done to Anna Ward and Abbie Mc Glinchey who won the "Waste Disposal Competition". Everyone was treated to healthy snacks to promote the use of the Brown Food Waste Bin.
The school community was encouraged to complete a survey in relation to Litter which is the theme for this year's Green School Committee Project. A special thanks to the team for helping with organising the event and the wonderful work they are currently undertaking in helping to make our school cleaner and greener.