Awesome Autumn Attendance Initiative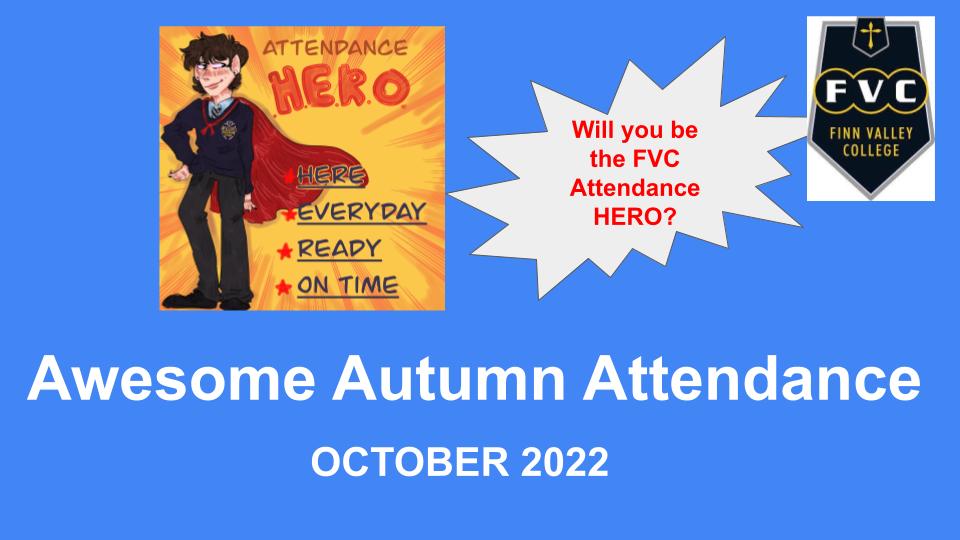 Monday 3rd October 2022 was the launch day of our Awesome Autumn Attendance Initiative for our junior classes.
The DEIS Attendance team and our Home School Community Liason teacher has been working to create and implement this fun challenge which aims to encourage 100% attendance and teach students the importance of being prepared and on time. On Friday, we had a "drop everything and discuss" lesson with our classes, where the value of attending school was highlighted. Students were eager to learn about the rewards and great prizes that are on offer.
Each week the class with the best attendance was entered into a draw which saw them winning lots of treats, a school outing, with one student becoming our overall FVC Attendance Hero and scooping the fabulous prize of a Chromebook.
Thanks to our talented second year, Abi Cassidy for designing such a cool and inspiring poster that encourages everyone to improve attendance, be ready and be on time.
Well done to all our students. Remember #EverySchoolDayCounts