Prizegiving Ceremony 2022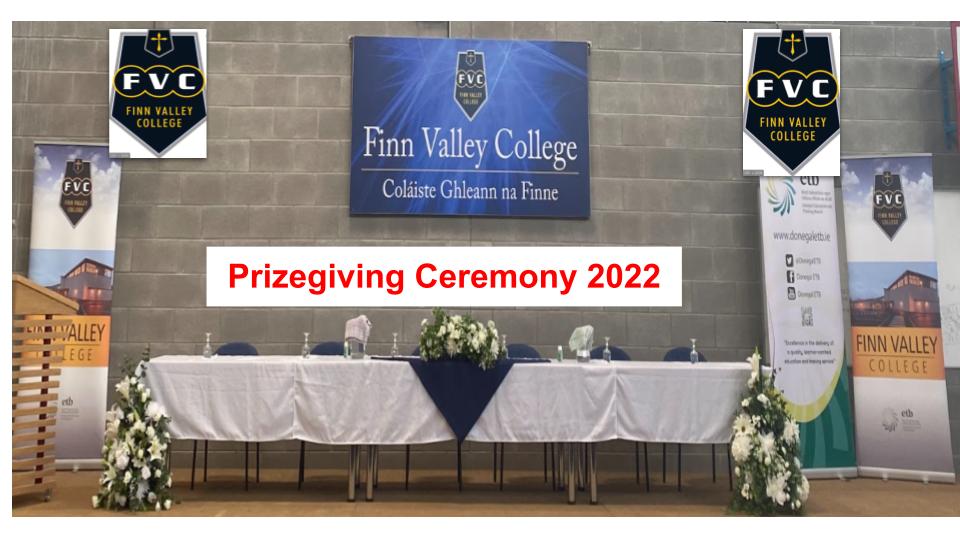 FVC was a buzz today with the excitement of our Prizegiving Ceremony. This is always my favourite day on the school calendar. It is a celebration not just of academic achievement but also of achieving goals, developing talents and making a difference.
We are proud of each and every member of our school community and are delighted by their collective achievements. It is a day for celebrating our individual and shared achievements, reflecting on a successful year and marvelling at how far we have come and the opportunities we have experienced.
The importance of teamwork and hard work was the theme of todays speech from our guest of honour, local entrepreneur Tommy Gallen, proprietor of Gallen Hospitality. His story was truly inspiring showing that dreams do come true through commitment, determination, kindness, respect and humility.
Mr Thompson echoed the importance of these qualities and encouraged students to make them the hallmark of their time in Finn Valley College. He also spoke how our school thrives on teamwork and thanked our dedicated Staff, Parents, Board of Management, Parents Association and members of the wider local community.
Ms Murray our Master of Ceremony for the Day introduced the following Prize winners.
The Contribution of the Student Council Members.
Student Mentor programme.
People Skills Programme
The Headstrong Programme
Robotics Award
Wellbeing Team
Excellence in Drama – Daragh Mc Ateer, Alana Russell
QQI Level 2 Award in General Learning: Marty Brogan
JCSP students who are received their Profiles of Achievement
The Minor Female Sportsperson of the Year: Molly Crossan
The Minor Male Sportsperson of the Year: Charlie Mc Kelvey Gallagher
The Junior Female Sportsperson
of the Year: Niamh Ryan
The Junior Male Sportsperson of the Year: Sean Brady Devenney
Senior Female Sportsperson of the Year: Codie Walsh
Senior Male Sportsperson of the Year: James Doherty
Student of the Year Awards
1st Year : Amy Lyttle, Kara O Neill, Katelyn Collum
2nd Year: Kylie Gallinagh, Nikol Stesenko, Alexa Kee, Rachel Mc Geever
3rd Year: Shae Walden, Eimear Ewing, Caitlin Sweeney
4th Year: Philip Mc Gowan, Aine Patterson, Amy Mc Ginty
5th Year: Michael Harkin, Codie Walsh, Aaron Kelly
Junior Boy 2022: Charlie Ward
Junior Girl 2022: Sophie Mc Partland
Senior Boy of 2022: Conor Mc Menamin
Senior Girl of 2022: Aine Irwin
Spirit of Finn Valley College Award: Erin Harold
Thanks to Ms Boland and The Prizegiving Committee for organising the ceremony. Special thanks to former student, Rachel Mc Gonagle who crafted the framed designs for the Junior Boy and Girl and Senior Boy and Girl awards. Well done to all.