October Wellbeing, just in time for Halloween Break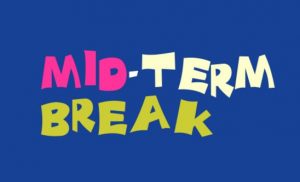 Well done and thanks to all the members of the Wellbeing Committee (Co-ordinator, Ms Summerville) and Ms Mc Geehan (HSCL) for promoting wellbeing in Finn Valley College for the month of October.
There were a number of great initiatives organised which were really enjoyed by students, staff and parents. From walking in Drumboe Woods, to Minfullness in our Wellbeing classes every Monday, everyone was given a chance to take some time out and relax.
Friday saw the event culminating in a non-uniform day with the proceeds going to Pieta House. Some staff and students got into the spirit of Halloween by wearing fun costumes. The ASD classes made lovely cupcakes and in Art, Ms Molloy and her students created some wonderful pumpkins.
The last class of the term was a fun celebration and a well done to all on a great first term. The Student Wellbeing Team under the guidance of Ms Summerville organised treats for all the students and there was a fun Halloween Kahoot quiz to partake in.
We wish all at FVC a fun and safe Halloween Break and school will return on Monday 1st November.