An unique link to the past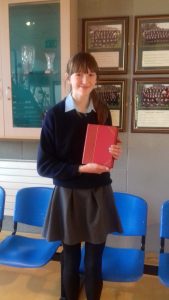 With students across the country completing their classroom presentations in English, there is sure to be wide variety among the topics, but our 2nd year student, Aisling Davis brought a unique tale to the classroom; the journey of her great-great grandmother from Stranorlar to America.
The woman in question, Catherine Gregory left her home in Stranorlar to take up employment with famous author, Mark Twain, who wrote 'The Adventures of Huckleberry Finn' and 'The Adventures of Tom Sawyer.'
Born in Donegal Street in 1885, Catherine left her native Stranorlar at just sixteen years of age from Stranorlar Train Station to Derry to depart Ireland for America. The six week journey brought Catherine to Ellis Island and within weeks, she found herself cleaning the house of Mark Twain. However, it wasn't long before she was promoted to his secretary.
Catherine often spoke of her native Stranorlar and told Twain about the local area and in particular, the River Finn. It was upon hearing of this river that Twain began to write the tale of Huckleberry Finn, thus creating a timeless link between the Donegal town and the American author.
Aisling also spoke about her great-great grandmother's decision to move home, which prompted Twain to give her a couple of his famous books, which were signed by the author himself. Aisling was able to show the class the signed copy, which is a family heirloom, with a monetary value of £10,000.
Aisling's presentation, which is part of the new Junior Cert programme is a remarkable tale of how a small river in Donegal inspired one of the most famous books in the world. It is also a remarkable tale of a local woman, who lived in this area over a hundred years ago and proves that history can be brought to life.