FVC European School Tour 2016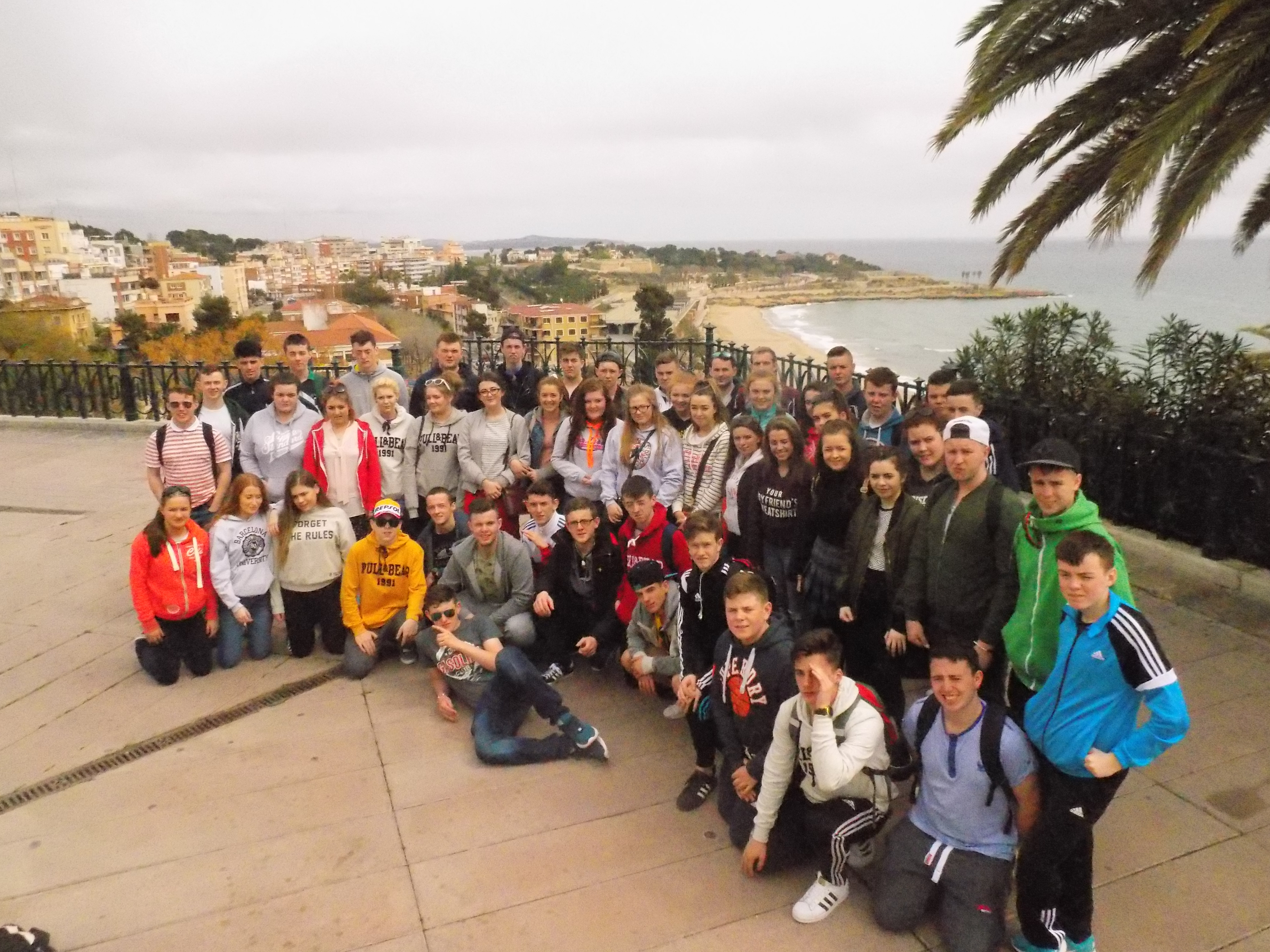 Beautiful Barcelona and a magical time in sunny Salou
FVC Tour 2016 Tour Report

Thursday 31st March
The group of 52 students and five teachers touched down in El Prat airport and made their way up Montjuic for a cablecar ride down to the impressive port area that was given a major facelift for the 1992 Olympics. From there it was destination Camp Nou for a tour of the impressive stadium and museum. A spot of ice skating was next up on a busy first day before finally, the weary bunch arrived into their excellent hotel in Salou, a couple of very early April Fools pranks and a rousing chorus of Happy Birthday for 16 year old Shannon Alexander before bed.
Friday 1st April
After breakfast teachers & students met their excellent tour guide Karita for the bus tour of Barcelona on a very wet morning. Their route took them up Mont Juic and down around the port area. The maritime museum is the site where the three ships Christopher Columbus used, The Nina, The Pinto and the Santa Maria were built.
Next stop was Barcelona's iconic cathedral La Sagrada Familia which began being built in 1882 and is due to be completed in 2026. The group were then given free time for a stroll down Las Ramblas before heading back on the bus to Salou where the sun made a very welcome return. Dinner was followed by a nice walk along the promenade to The House of Illusion, regularly voted as the best attraction in Salou, and it wasn't hard to see why. The impressive new venue on the beachfront was perfect for an awesome evening of entertainment that involved magic, comedy, music and hypnosis!
Saturday 2nd April
Saturday was perhaps the most highly anticipated day of the tour, with a visit to the hugely popular Port Aventura theme park which is just a short 5 minute drive from our hotel. The students got to spend almost 7 hours in the park sampling rides such as Furious Baco, Dragon Khan and the terrifying Shambala. Many also enjoyed a good soaking on the several log rides but were soon dried off by the very pleasant Spanish sunshine.
Sunday 3rd April
Sunday saw the group set off for their day trip to Monserrat, Catalonia's pilgrimage shrine and monastery found high in a very distinctive mountain range inland from Barcelona. The drive was worth it alone with the stunning views and the road corkscrewing its way ever upwards. At the monastery the group took a funicular up even higher still to the top of the mountain. After dinner back at the hotel they made their way to a local bowling alley for a couple of hours fun. Back at the hotel for their last night on tour a function room was quickly acquired and our resident FVC DJ Mr Mc Daid soon had the floor filled with not one but two schools as PCC Falcarragh had arrived the previous night. Jiving songs were requested, our school dance Cha Cha Slide was performed and a rousing version of The Hills of Donegal provided a fitting end to a great night.
Monday 4th April
The fifth and final day on tour after checking out of the hotel allowed the group some shopping in Salou and later in neighbouring Tarragona. This beautiful small city is perched delightfully on a height overlooking the Mediterranean Sea. It was once the main outpost for the Roman Empire outside of Italy and many of the remains, including an amphitheatre are popular tourist attractions now.
Then finally and reluctantly, the bus was boarded for the final time as we made our way to the airport. On route the traditional novelty prizes were given out to students. Ms Boland brought Tour 2016 to a close as she thanked all the students for their excellent behaviour over the five days and for their part in making this years FVC tour such a great success.
Students on FVC Tour 2016
Shannon Alexander, Anthony Anderson, Kamil Bichajlo, Siobhan Bogan, Brandon Bogan, Christopher Boyle, Bronagh Boyle, Amy Bradley, Edward Crawford, Lauren Curran, Sophie Davis, Brian Devine, Conor Duffy, Aaron Duffy, Nicole Foy, Aine Foy-Hayton, Mitch Gallagher, Dylan Gallen, Cillian Gallen, Devina Gibson, Lauren Harris, Rachel Hume, Niamh Mc Granaghan, Ronan Laverty, Leah Mc Brearty, Dylan Mc Clean, Kelsey Mc Clintock, Shannon Mc Colgan, Gillian Mc Cool, Truda Mc Daid, Mairead Mc Elchar, Reece Mc Gahern, Oaran Mc Gurk, Caoimhe Mc Hugh, Andrew Mc Pherson, Cathal Moss, Calvin O Brien, Daniel Ramsey, Caitlin Roan, Mateuz Salamaj, Niamh Ward, Conor Gallagher, Ruadhri Mc Elhinney, Adam Hughes, Thomas Slevin, Dillon Doherty, Ryan Davis, Ryan O Hagan, Jason Dullaghan, Aidan Dullaghan, Michael Gillespie and Peter Mc Cafferty.
Staff on tour- Ms Boland, Mr White, Mr Mc Daid, Ms Diver and Ms Mc Granaghan.