European Day of Languages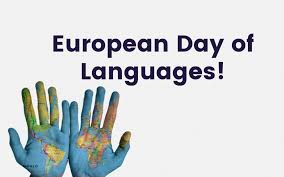 Well done to Ms Garry and the first year students who participated in European Day of Languages on the 26th September.  The class had great fun creating posters and learning greetings and new words from different countries. Check out their video below showing some of their new vocabulary and language facts.
Europe is rich in languages – there are over 200 European languages and many more spoken by citizens whose family origin is from other continents. This is an important resource to be recognised, used and cherished.
Learning other peoples' languages is a way of helping us to understand each other better and overcome our cultural differences. Well done to class Keane and Kinsella for sharing their learning. Obair mhaith!!
Language facts
Did you know that…
At least half of the world's population are bilingual or plurilingual, i.e. they speak two or more languages.
Many languages have 50.000 words or more, but individual speakers normally know and use only a fraction of the total vocabulary: in everyday conversation people use the same few hundred words.
There are between 6000 and 7000 languages in the world – spoken by 7 billion people divided into 189 independent states.
Most of the world's languages are spoken in Asia and Africa.