75th Celebrations conclude in style with a wonderful 'Winter Ball'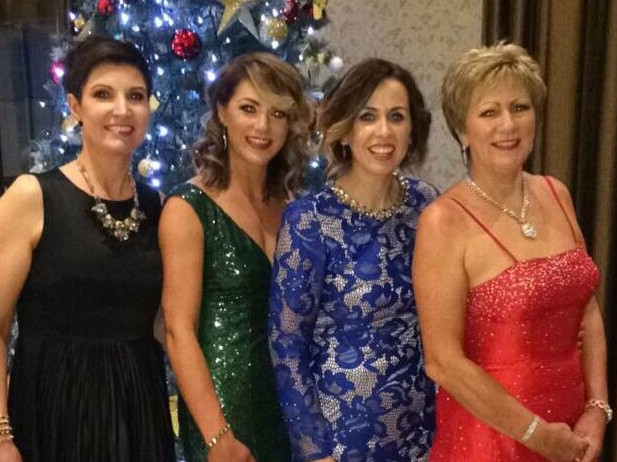 The year long celebrations that began with the publishing of the commemorative calendar ended in fabulous style with our wonderful Winter Ball.
In the long and illustrious 75 year history of Finn Valley College/Stranorlar Vocational School, there surely can not have been many nights to have topped this one. The Villa Rose Hotel was the fabulous venue for the crowning night of a year of celebrations. 300 guests, ranging in age from some of the very first students to have entered the school in 1940 right up until those who have just left, gathered firstly for a champagne reception in the foyer to the sounds of past pupil Rodney Deery. Guests browsed an extensive photo collection before making their way into the superbly adorned function room decked out in the school colours.
During and after the exceptional meal was punctuated with spot prizes galore, sponsored by the many businesses and friends of the school, as well as speeches from past principals Brian Mc Dermott and Frank Dooley as well as the current incumbent Alan Thompson. Entertainment on the night was provided by the very talented Finn Valley College students Chloe Friel and Chloe Irwin who danced so elegantly, extremely popular Cufflinks band, who didn't disappoint judging by the amount of dancers on the floor all night. Those who wanted to take a break from dancing could make their way out to the photo booth for some more high jinks and captured memories of a great night out.
The atmosphere and reverie of the night served to illustrate the fondness that all attending hold for the school. The organising committee led by Ms Ashlean Mc Geehan, ably assisted by Ms Kathleen Boland and the Diamond Committee in the school are all to be thanked for marking the occasion so well. They would all like to thank those who supported the night in any way. The school will, no doubt, continue to play a central role in the Finn Valley Community for many years to come, with the next stop being the centenary!