Adios amigos to our Spanish visitors!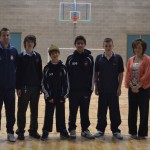 On Friday we bade a fond farewell to our two Iberian friends, Ignacio and Inigo as they prepared to head back home to the sunnier climes of their native Spain.
The two Spanish students have been attending the school for the last month and by all accounts have really enjoyed their stay. Ignacio Jiron-Lafuente, from Santander in northern Spain, has been staying with Third year student Dylan Irwin's family and following class Kinsella's timetable, while Inigo Gallardo-Osuna from Seville in southern Spain, has been staying with Christopher Mc Cafferty's family and following class Montague's timetable.
The two boys were presented with school hooded tops, courtesy of Mr Mc Daid and the Sports Department to help remind them of their time at FVC, and they were also treated to a going away party in the new school canteen, arranged by Ms Boland. 
All at Finn Valley College hope that the two lads have had an educational and enjoyable stay and we wish them a safe journey home. Their trip was arranged by Ms O' Regan. Thanks are also due to Spanish teacher Ms Collum for her help during the stay.
¡Adiós muchachos! Todo el mundo aquí en Finn Vallley College esperamos que lo hayáis pasado muy bien con nosotros en Donegal y que os vayáis con muy buenos recuerdos. También esperamos que contéis con muchos de nosotros entre vuestros amigos.Os deseamos mucha suerte  y nunca se sabe, podríamos volver a vernos en el futuro. ¡Hasta pronto!